Print page
K-Othrine® Polyzone
K-Othrine® Polyzone
Print page
Product Overview
Long-lasting residuality with patented polymer-enhanced technology. The polymer formulation in K-Othrine® Polyzone provides effective residual control even in harsh weather conditions and reduces wash-off from treated surfaces resulting in reduced risk of environmental impact.

Product Description
Key Product Facts:
Active ingredient: Deltamethrin 5.9% w/w.
Up to 90 days residuality from rainfall, irrigation and abrasion. *Field trial by institute for Medical Research, Malaysia.
Reduced risk of wash-off and environmental contamination.
WHO-PQ (Ref. No.: 008-004).
Application rates and delivery
Safety instructions:
Always read the product label before use.
Keep out of reach of children.
Do not use any rates other than those recommended in the product label.
Harmful if swallowed.
Do not eat, drink, or smoke when handling this product.
Avoid contact with skin or eyes.
Avoid inhalation of fumes and spray mist.
Wear the standard protective clothing (PPE), including gloves, goggles and masks so as not to inhale the spray mist during application when handling this product.
After using this product, make sure that the pesticide container is tightly closed and stored in a locked room that is dry, cool and well-ventilated.
After work, thoroughly wash hands and all parts of the body contaminated during handling and application with plain soap and water.
Wash your hands and spray or atomizer thoroughly after use.
How to use:
Sheltered walls should be treated with full residual spray from ground level up to a maximum height of 3m to assure the desired nominal deposit.
Walls exposed to rainfall should be treated with a targeted residual spray.
Rate of Application:
Dilute 90ml

K-Othrine® Polyzone with 7.5 litres of water.

Apply 4 litres of spray solution per 100m2.
Timing:
Every 3 months (Subject to the mosquito type and the wall surface).
Refer to the product label.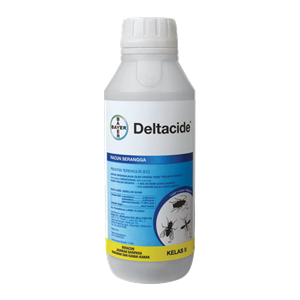 Insecticide
Deltacide®
Emulsifiable Concentrate
Deltacide® is a powerful oil-based spray insecticide for...
See product
Insecticide
Resigen®
Emulsifiable Concentrate
Resigen® - the versatile space spray to control adult...
See product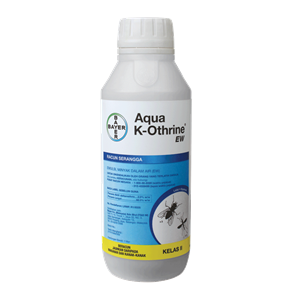 Insecticide
Aqua K-Othrine® EW
Emulsion, Oil in Water
Aqua K-Othrine® EW is a pyrethroid-based concentrate with a...
See product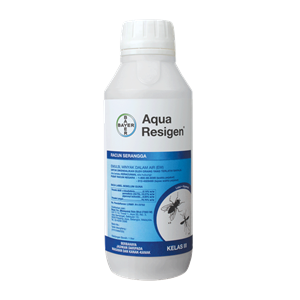 Insecticide
Aqua Resigen®
Emulsion, Oil in Water
Aqua Resigen® is an environmentally-sensitive solution for...
See product